QR codes for teaching rooms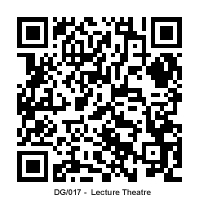 It is now possible to see what is happening in any room across campus by using the QR code found on each door. To use the QR code you will need a smartphone with scanning software installed (a list of tested free software can be found below). Simply hold the phone in front of the code and the software will do the rest ( don't forget to turn the software on before holding your phone in front of the code and ensure that either your wifi or 3g is active and connected - I know that sounds obvious, but there is always going to be one). Please try using the example to the left of this page to test that all is working correctly.
Redlaser ( iphone, Android and Windows phone), Nokia Barcode Reader ( Err Nokia), Blackberry Messenger ( comes standard with most Blackberry's). Of course there are many other scanning devises that you could use, these are just a selection of tested applications.
***A QR code is like a smart barcode and can contain information such as web page addresses, contact details and any other text-based information***